Avis de la page d'accueil

---
Les avis de village importants seront placés ici.
---
---
Communauté de Zenon Park
Objet : Invitation à une session d'information en développement durable
Maurice,
Le Village de Zenon Park en partenariat avec Éco-Ouest a le plaisir de vous inviter à une session d'information à la-quelle tous les entreprises et organismes de Zenon Park sont invités.
Le jeudi 25 avril 2019
19h00 à l'aréna de Zenon Park
L'objectif est de comprendre les priorités actuelles de la communauté en matière de développement durable. Cela fait suite à l'achèvement d'un inventaire des émissions de gaz à effet de serre du village.
La session sera animée par deux représentants d'Éco-Ouest, spécialisés dans la durabilité municipale. Il y aura une brève introduction de ce que signifie la durabilité et de certains des problèmes de durabilité auxquels sont actuellement confrontées les petites municipalités / zones rurales. Ensuite, vous participerez à la définition des priorités pour la communauté, en ce qui concerne les questions de durabilité.
Ta participation à cette rencontre est importante. Si tu as des questions, n'hésite pas de communiquer avec Lisa au bureau du village (306-767-2233).
Nous espérons vous compter parmi nous le 25 avril.
Veuillez recevoir, Maurice, mes sincères salutations.

Gilbert Ferré
Maire, Village de Zenon Park
---

Zenon Park Community Partners Corporation Trip-of-the month 17th Lottery
Ticket sales close May 24th, 2019
$30,540 - In prizes to be won!
TICKETS ON SALE NOW!
Only 400 tickets sold at $120 each

Entry Form here. Lotto Rules Here. Order Form Back Side
New Prize format!!!
Choose your own adventure!!
See Trip of the Month Page for More Details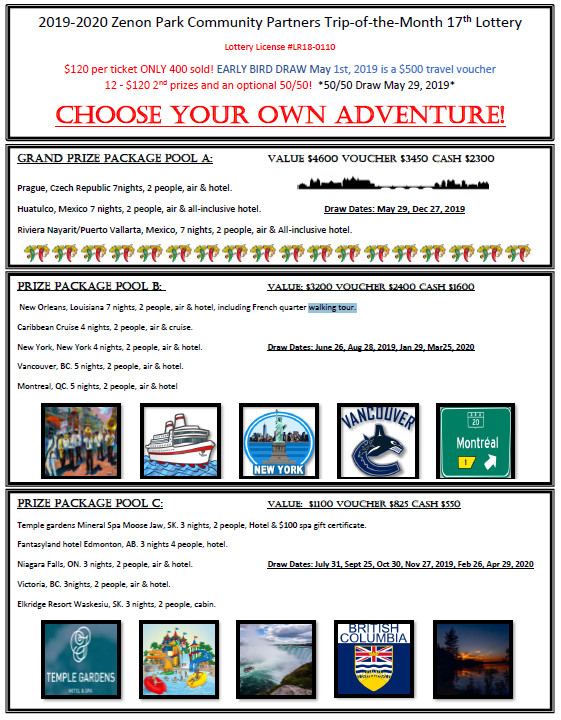 ---
Sale By Tender
The Village of Zenon Park offers for sale the following property "as is": Block C Plan no. BE2569
A tender must be submitted in a sealed envelope marked "property tender" addressed to the:
Village of Zenon Park, Box 278, Zenon Park, SK, S0E 1W0
Tenders must be postmarked by the deadline of April 1st, 2019. A certified cheque to the municipality for 5% of the amount of the tender must accompany the tender. Please state your intended purpose of the property. Highest or any tender not necessarily accepted. Successful bidder will have 30 days to provide the balance of cash to complete the purchase.
Dated the 22nd of February, 2019
Lisa A. LeBlanc
Administrator
---
Tri-Unity Challenge
Now is the time to submit your Tri-Unity Challenge minutes!! All Minutes need to be given to the Village Office by April 8th. Thank you in advance.
---
HumboldtStrong Community Foundation:

The Zenon Park Fire Department, First Responders and Council would like to sincerely thank the HumboldtStrong Community Foundation for the donation of $ 50,000. We will put it to good use and honour the people affected that fateful day.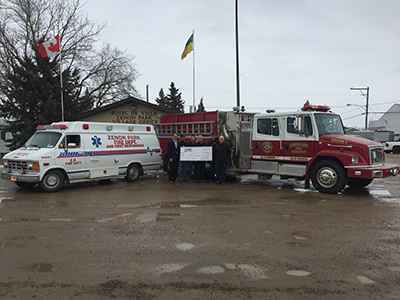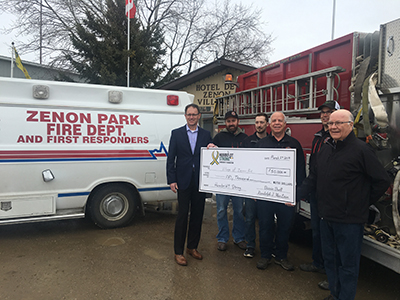 ---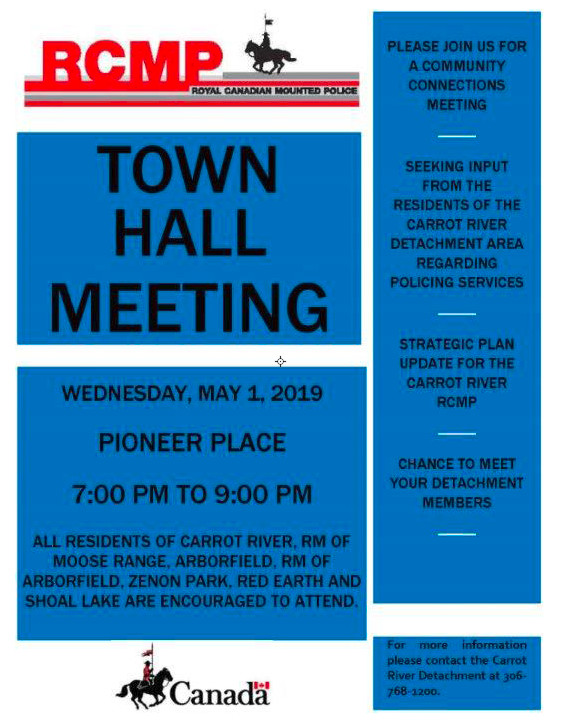 ---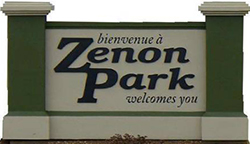 English language switcher Top Right.

Note: If you are in charge of a group or organization and have content to contribute, or if you have suggestions for the site, please contact Lisa at Village Office.