Help us keep our small town alive and thriving!
This lottery will help with the future of our community's recreational facilities and programs.
Thank you for your support! Zenon Park Community Partners Corporation Trip-of-the month 17th Lottery
Ticket sales close May 24th, 2019
$30,540 - In prizes to be won!
TICKETS ON SALE NOW!
Only 400 tickets sold at $120 each
Entry Form here. Lotto Rules Here. Order Form Back Side

24 chances to win!
12 monthly 1st place trip packages
12 monthly 2nd place $120 prizes
PLUS, an add on option 50/50 draw with each $120
trip of the month ticket purchase! Only 1400 sold!
50/50 add on option $30 each
(maximum 3-50/50 tickets per trip of the month purchase)
Maximum 50/50 prize payout $18,000
**Last day to purchase May 24th, 2019**
Payment options include:
CASH, CHEQUE, PRE-AUTHORISED DEBIT, E-TRANSFER (Cette adresse courriel est protégée contre les robots spammeurs. Vous devez activer le JavaScript pour la visualiser.), & MASTERCARD
(auto debit monthly option not available for 50/50)
Call (306)767-2231 or fax (306)767-2768
email Cette adresse courriel est protégée contre les robots spammeurs. Vous devez activer le JavaScript pour la visualiser.
Trip of the month information available on the Zenon Park webpage www.zenonpark.com
Early bird draw (May 1, 2019) and all monthly trip draws (made on the last Wednesday of the month) are drawn at 10am at 735 main St. Zenon Park (Diamond North Credit Union).
Lottery Licence # LR18-0110
New Prize format!!!
Choose your own adventure!!
2 draw dates for Pool A ($4600 value)
Pool A Trip choices include: Prague, Czech Republic, Huatulco, Mexico, Riviera Nayarit/ Puerto Vallarta, Mexico
4 draw dates for pool B (up to $3200 value)
Pool B Trip choices include: New Orleans, Louisiana, Caribbean cruise, New York, NY., Vancouver, BC., Montreal, QC.

6 draw dates for pool C (up to $1100 value)
Pool C Trip choices include: Temple Gardens Mineral Spa Moose Jaw, SK., Fantasyland Hotel Edmonton, AB., Niagara Falls, ON., Victoria, BC., Elk Ridge resort Waskesiu, SK.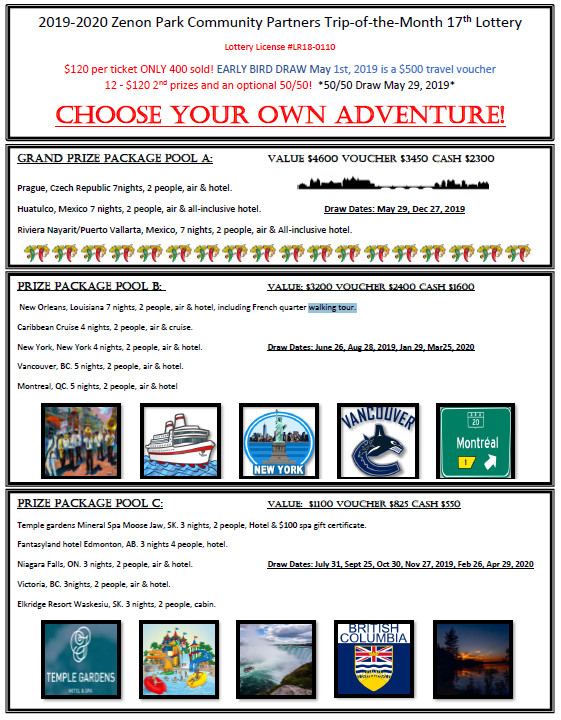 PDF of Full Poster
Monthly Draw Winners