Community Home Page - Notices and Events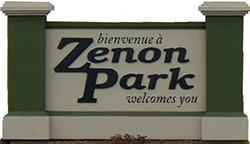 Zenon Park TOTM July Winners!!
Congratulations to Gordon & Judy Classen from Tisdale, SK who are the lucky winners of a trip to Greece valued at $3,612. Congratulations to Peter Evaschesen from Melfort, SK who is the lucky winner of the $100 prize.
We are pleased to announce that recycling in the Village of Zenon Park will begin

August 13th

!
All residents have been delivered a blue recycle bin. Please lift the cover to find a calendar for which dates are garbage days and which are recycling. Details about what can be put in the bin are on the outside of the cover and for more information please see the pamphlet that was put in your mailbox in July or the link to a scanned copy under the Residential services tab.
If you have any questions regarding the recycling program please contact the Village Office.

Kool Summer Daze - Kids Play Program 2014
Dates: August 5, 7, 12, 14, 19, 21 10 am - 3 pm @ Zenon Park Arena
All kids between the ages of 5-12 are welcome to attend Come join in on all of the fun!

ZENON PARK TRIP OF THE MONTH- ONLY A LIMITED NUMBER OF TICKETS REMAINING!

Thanks to everyone for supporting the lottery. Contact Community Partners for more Information.
See Our Trip of the Month Page
July 2014 - Our website is under re-development
Content is currently being added or updated.
To switch to the French side of the site click the French label on the upper right. These language switchers take you to the English or French 'Home Page". The French text is in the process of being translated and will be a duplicate the English version.
Check back soon for updates.
If you are in charge of a group or organization and have content to contribute, or if you have suggestions for the site, please contact Lisa at Village Office.