Community Home Page - Notices and Events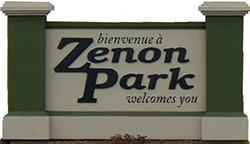 Zenon Park TOTM June Winners!!
Congratulations to Paul & Leona Perrault who are the lucky winners of a trip to Victoria, BC valued at $1,953.
Congratulations to Steve Dobko who is the lucky winner of the $100 prize.

Tri-Unity Challenge @ Pasquia Regional Park
August 9, 2014
Event categories: Adult 21km, 10km, 5km, and 3km ~ Youth 3km
Register by July 10th. To ensure you receive your Tri Unity Tec Shirt.
Register at www.tri-unity.ca or call 306-768-3833
or contact Carla at This email address is being protected from spambots. You need JavaScript enabled to view it.
Kool Summer Daze - Kids Play Program 2014
Dates: July 8, 9, 15, 17, 22, 24, 29, & 31
~ August 5, 7, 12, 14, 19, 21 10 am - 3 pm @ Zenon Park Arena
All kids between the ages of 5-12 are welcome to attend Come join in on all of the fun!


Don't miss the
École Zenon Park School 'FINAL DAYS' SALE
Saturday, July 19, 2014
10 a.m. to 4 p.m. - See Poster
Running Clinic
Monday July 21st, 2014 7:00pm
Pasquia Regional Park - See Poster
Fun FRENCH DAY CAMP
July 21st - 25th - 10am - 4 pm
For children 6 years - 12 years of age
We are still taking registrations! See Poster
ZENON PARK TRIP OF THE MONTH- ONLY A LIMITED NUMBER OF TICKETS REMAINING!

Thanks to everyone for supporting the lottery. Contact Community Partners for more Information.
See Our Trip of the Month Page
July 2014 - Our website is under re-development
Content is currently being added or updated.
To switch to the French side of the site click the French flag on the upper right. These flags take you to the English or French 'Home Page". The French text is in the process of being translated and will be a duplicate the English version.
Check back soon for updates.
If you are in charge of a group or organization and have content to contribute, or if you have suggestions for the site, please contact Lisa at Village Office.