---

---

Zenon Park Arena
Now has ice times available for rent
$75/hr
Our special this year is:
Rent 3 ice times & get the 4th for FREE
To book your ice time contact Kelly - (306) 767-2231
This email address is being protected from spambots. You need JavaScript enabled to view it.
---

---
Bus Driver Position
Deadline for applications is open till the job is filled.
Click Image to Enlarge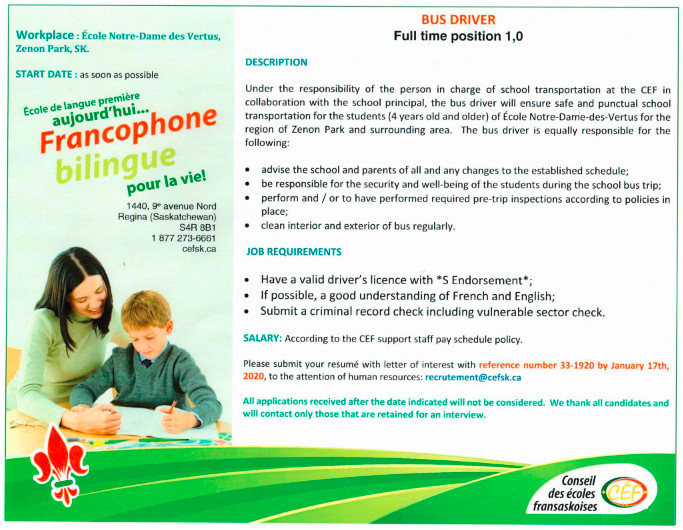 ---
Crime Watch
On March 7th, 2019 the Honourable Christine Tell, Minister of Corrections and Policing and A/Commr. Mark Fisher, Commanding Officer of the Saskatchewan RCMP, along with some of our community partners, announced the launch of the 'Saskatchewan Crime Watch Advisory Network' in Southern Saskatchewan. I am pleased to inform you that the system is now expanded to include all communities in the Province.
WHAT IS IT? When a detachment becomes aware of an incident or crime, they can issue an advisory via the system, and anyone who has signed up for the program will become aware of what happened within minutes! The system will send the advisory to your smartphone or landline, via text message, email, or text to voice (depending on your own preference).
HOW DO I SIGN UP? Signing up to be part of the network is free and only takes a few minutes. You choose which RCMP detachment area(s) you want to receive notifications from (one or multiple), and how you want to receive them - whether it be via text message, email, a text to voice phone call or the app. Note, an app is available, but it is not required. Even residents who only have a landline can sign up and receive the advisories.
Visit www.saskcrimewatch.ca to sign up!
WHO SHOULD SIGN UP? We encourage anyone and EVERYONE to join the network – residents, corporations and organizations could all benefit from receiving these advisories. You do not need to be part of an existing crime prevention group to sign up. EVERYONE should sign up for this system, including those people who are already part of a group.
The concept of the program is simple: sign up to receive advisories from your local RCMP and assist us by serving as the 'eyes and ears' of your community.
---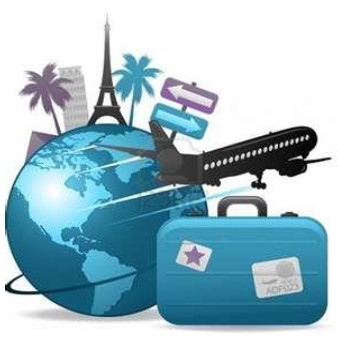 Zenon Park Community Partners Corporation Trip-of-the month 17th Lottery
Ticket sales close May 24th, 2019
$30,540 - In prizes to be won!
TICKETS ON SALE NOW!
Only 400 tickets sold at $120 each

Entry Form here. Lotto Rules Here. Order Form Back Side
New Prize format!!!
Choose your own adventure!!
See Trip of the Month Page for More Details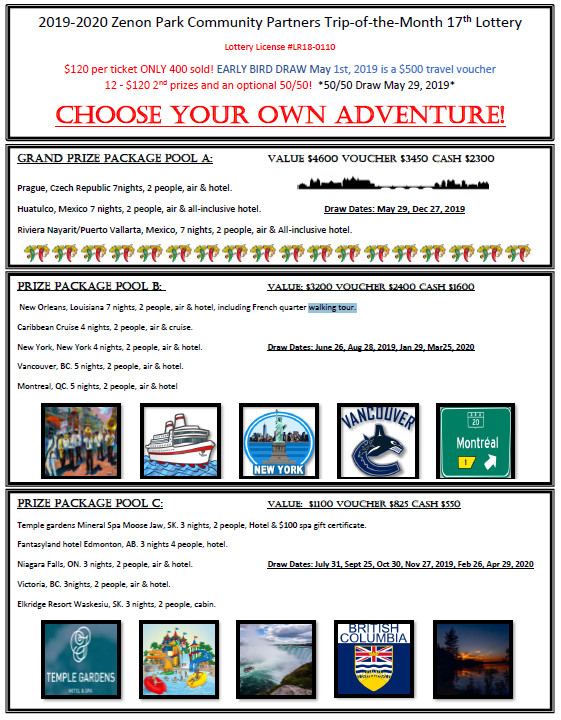 ---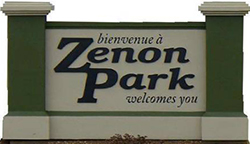 French Language Switcher Top Right

If you are in charge of a group or organization and have content to contribute, or if you have suggestions for the site, please contact Lisa at Village Office.